3 Things the Photos Won't Show – 6806 Kirby
I've felt the calling to some how incorporate blogging into my real estate arsenal, but I wasn't quite sure where to start. I am by no means a writer, but I thoroughly enjoy reading the authentic, raw, text like you talk, blogs that showcase a real insight into a certain topic. So I've come up with an idea…..
I'm starting a series curated around my current and new listings that references the things that you might not get by just clicking through some photos on the internet! Thoughts, comments, snarky remarks??
The internet has gotten so stale. "Three bed….two bath…..old carpet….yaddah yaddah blah blah". Any one can read that. Lets dig a little deeper. What are the things you wouldn't know unless someone told you? I always tell my clients, if we want to find out the goods on this house – we need to talk with some neighbors. They know everything! (In a non creepy, stalker way of course!) 🙂 I'm big on connection and relationships – what is the story this house tells? The goal would be to give you a little more insight into what living in these houses would be like because lets get real – you're purchasing a lifestyle, not just the studs & nails that built the house. I want to talk more about the lifestyle and how it could potentially suite a new buyer!
My first test subject is my new listing located at 6806 Kirby Road in Shepherd, MT. "This is country-livin" as my photographer puts it (she lives right down the road). "Yep…we're in the country today Kel" she says as she makes fun of me for my choice of footwear I'm in to go take backyard photos. Love that woman and the life lessons she teaches me. Anywho….on to 6806 Kirby (click here for listing information)!
Three Things that the Photos Won't Show: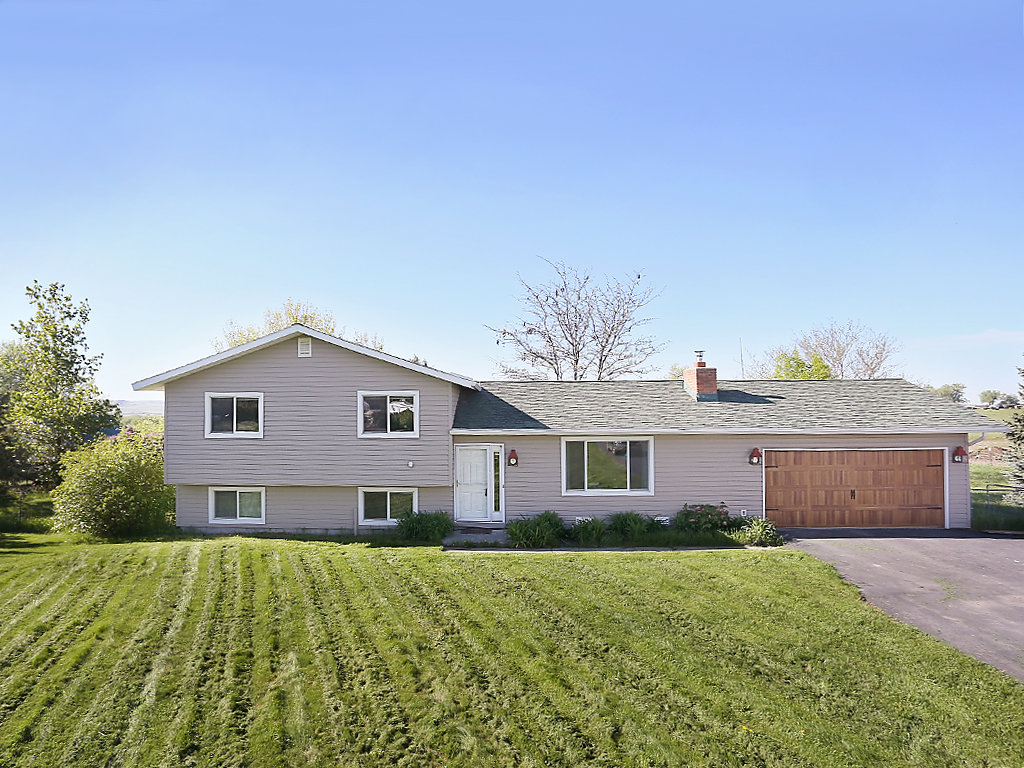 1. How the sun feels on the back deck – I toured this home for the first time when there was still snow on the ground and instantly gravitated to the back deck knowing it would be a summer focal point. You can see that this house backs (now) lush green farm land which is an obvious plus, but what you can't see (or feel in this case) is the direct sunlight that you get on this oversized deck – it's goes RIGHT into your pores and warms your core. Its so good. Two large trees flank the deck & it's just you, the sun, and that view. It is the most serene, peaceful setting. Not much can beat it.
And hey – if you get to warm, shade is just at the push of a button. No – I'm serious. Grab the remote that connects to the electric awning and get as much shade as you need without sacrificing ambiance one bit.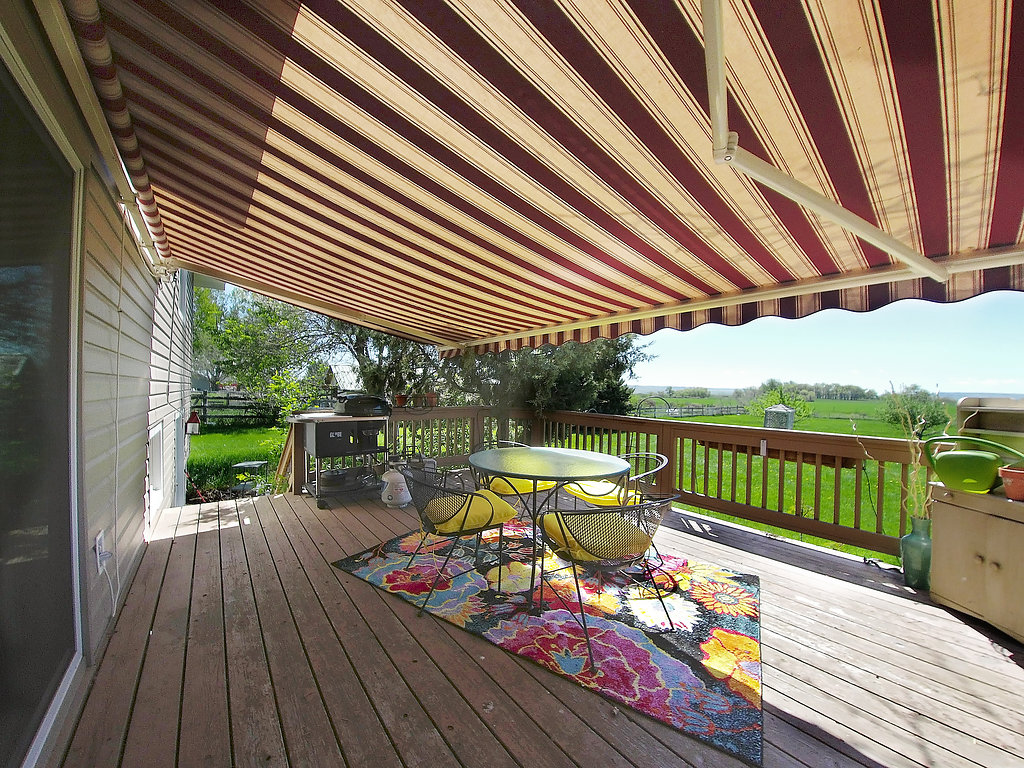 2. The friendly neighbors – As I was putting the sign into the ground, a neighbor ran by and greeted me with the most cheerful grin! I'm not sure who actually smiles that large while on a run….but it was literally from ear to ear and just warmed my heart. She stopped and we chatted about the house and the neighborhood. I just love that country–feeling hospitality where neighbors actually stop and say hi to each other! It made me feel wonderful knowing that this community welcome the new buyers with open arms!
3. The freedom – Funny story. While we were staging this sweet home, the stagers and saw something out the front window that immediately caught our eye. Picture seeing a dog, clearly lost and looking for its home or maybe a new yard with a friend or some treats – but then turn that dog into a horse. Yep. A horse. It was hilarious. Guess you don't lose your dogs in Shepherd, but you might accidentally lose a horse! My point being is animals of all kinds are welcome (except bulls per the covenants 😉 have to stay legally aware here!). The horse made its way to neighboring barn where it had several friends and I'm sure shared some treats before the owners came and got it. Going back to that friendly neighbor thing. What a great community!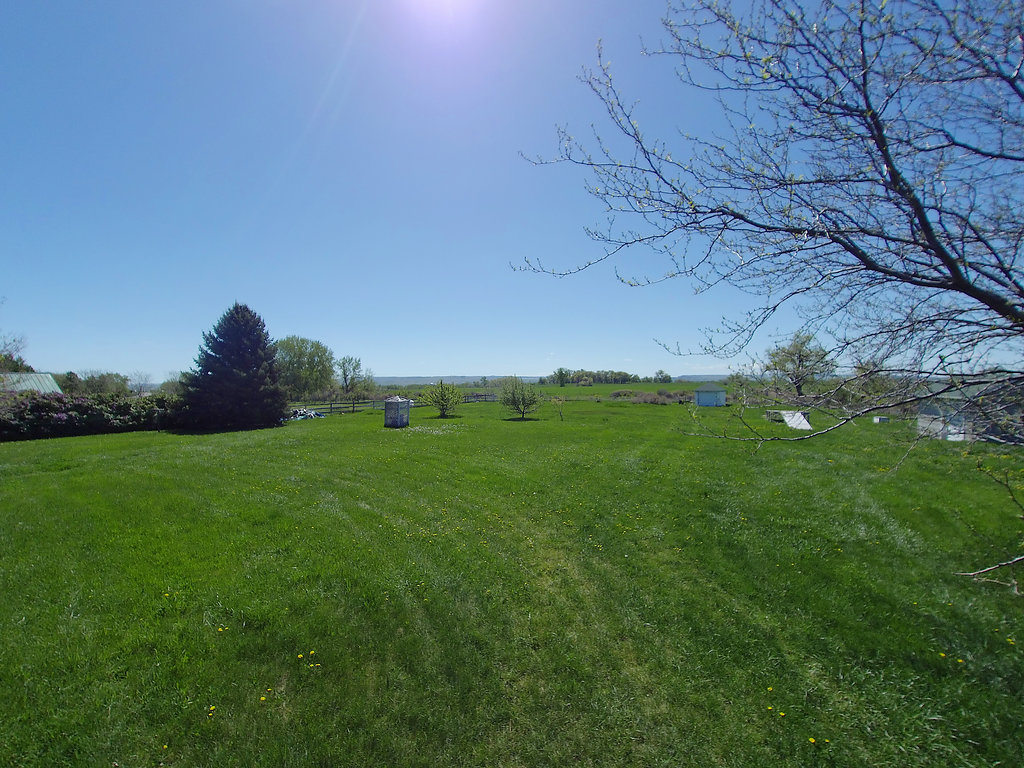 I think this is going to be really good you guys — and I'm excited about it! Hope you're enjoying this weather as much as I am – and if you need a good dose of sun, check out the deck on 6806 Kirby. You'll be sure to find it there!
For more photos and information on this listing click here!